After working for Voyya (travel software company) remotely from Cape Town for 6 months, in January 2018 I packed my bags and moved to Mauritius - Voyya's HQ. I originally intended to join the rest of the team on the island for Jan and Feb, after which I thought I'd quit and look for something else fun to do. However, after spending a full month on the island, things started to changed, and that scared feeling turned to calm, the anxiety of being away from everyone I loved subsided and I learned to like it. Being alone (quiet time) became something I looked forward to actually, and spending weekends outdoors at the beach, motorbiking and boating became my fav things to do. Oh, and eating amazing food!

I stayed on the island for 14 months, which included a few short-stay visits back home and a bleisure trip to Europe - all together about 2 years' worth of amazing experiences. In order to structure my account of these experiences in a way that is more insightful (yet concise) than one very, very long story (which believe me, I can do at the drop of a hat), I found the questions below on someone's blog. She shared a similar experience - well, similar only because she lived abroad, but nowhere close to where I was, but anyway here goes.

What was your favourite thing about Mauritius?

Being spontaneous. Even though near the end I complained a lot about the lack of new things to do and people to meet, looking back now, the randomness of events was the most exciting part about living on the island. There was always an opportunity to meet someone new (and friendly) or spend the evening looking up at the stars, drinking beer, while BBQ-ing on the beach and singing songs with "old" friends. I lived down the road from 5 of the most beautiful beaches in the world. Reality finally beat the expectation!


Some unforgettable moments:
BBQ-ing on the Mon Choisy beach with friends

Early morning strolls on the beach when my folks came to visit

The HUGE prawn espetada affair at Beach House in Grand Baie, with mom and dad

Walking into Banana Beach Club and all my mates singing "I'm yours", belting out the words at the top of their lungs to the tune of the live band

Watching LPs (Laurent Pierre Le Cordier) valentines day concert at Mystik Lifestyle

Catamaran trip to Flat Islands for end of year party

Sitting on a rock in Grand Baie watching kids play in the water while the sun set behind the docked boats in the bay

Walks to work and the 6 store owners and vendors I greeted with "Bonjour" and a wave

"Thats not a snaaaaaaaaaake" - LP's expression when describing a smaller than usual snake

Movie night behind Mon Choisy mall, with only the stars and sky as a backdrop

Racing my scrambler in the dark through Mon Choisy Beach forest

Eau Bleue aka. Actually green (sometimes) with my sister

Reaching the top of Le Morne in the South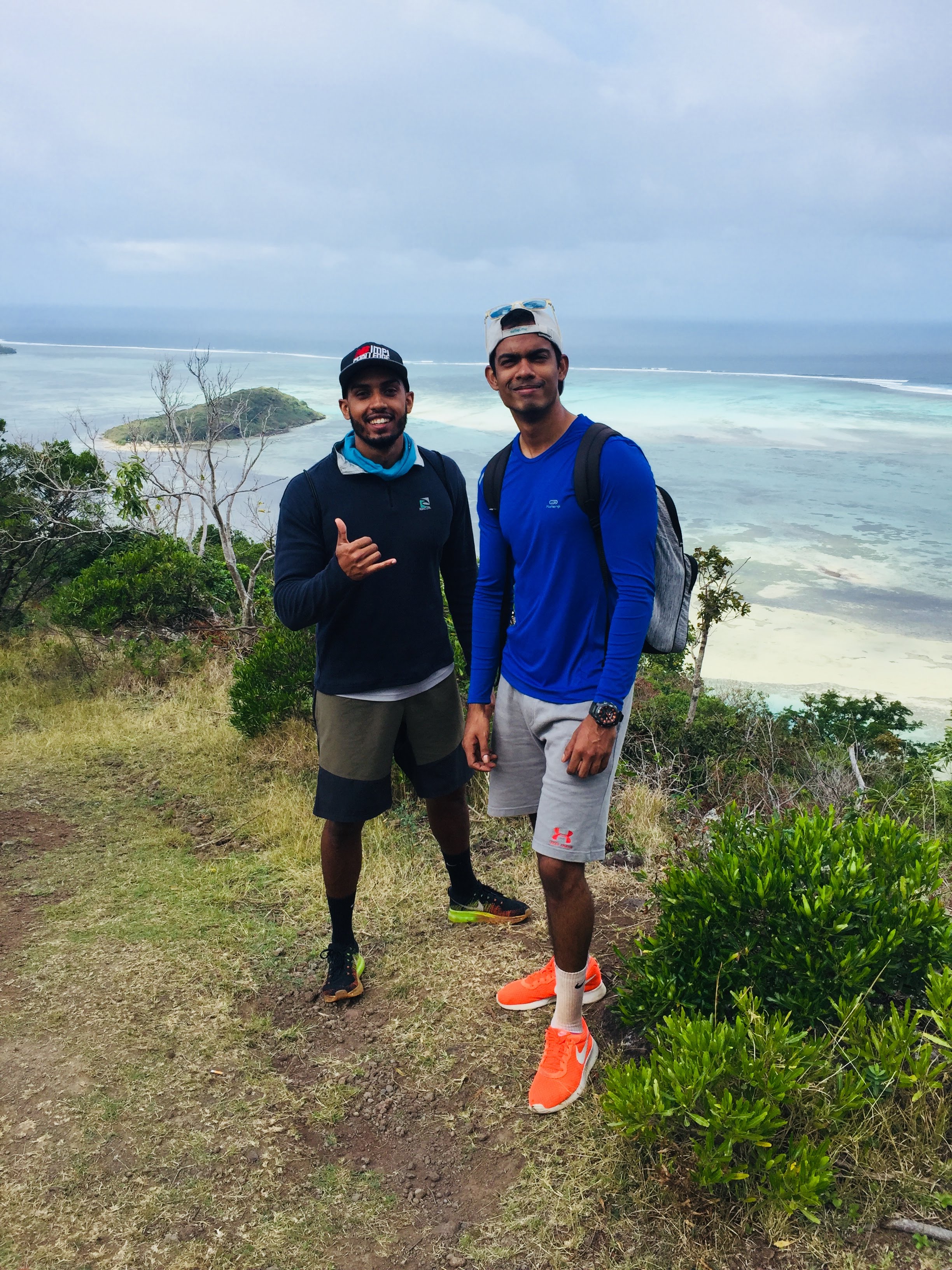 Almost at the top of Le Mourne


How well do you know the country?

Well, I think pretty well by now. For starters, I applied for my own work permit, applied for my UK visa, got a Schengen visa and bought and sold a motorbike - so I got the admin side down. I took said bike all around the island and even off-road whenever possible. I visited all the fav beaches, climbed the highest peaks and ate the best food. I learned some French, mostly just what I needed to get the cheque when eating out (which was a lot). I also learned some Creole which helped me communicate with my amazing neighbours and other peeps I befriended in my village.



Where would you send a first time visitor in Mauritius?

Most people I know that visit Mauritius spend most of their time in the South - I find this odd. Probably because I lived, worked and played in the North. The South (Tamarin, Black River, Le Morne) is beautiful no doubt, the beaches; the kite surfing spots; the mountains and the amazing villas; but I always advise visitors to stay in the north. I feel like there's more opportunity to mingle with locals, they offer amazing catamaran trips from here too, out to Gabrielle island (not my fav though as the seas are sometimes rough getting there), but it's also very easy to get to the East and the embarkation point for trips to Ill Au Cerfs - the trip I took all my visitors on. The Neptune with Northview Tours is not the fanciest catamaran, but the hospitality of the crew was more than enough to make me a repeat customer. They were amazing! All you can eat and drink - served with a phat smile, song & dance!

I suggest a stay somewhere in Mon Choisy or Trou-aux-Biches, which is an easy taxi ride or very long walk from Grand Baie. Which is just a stone throw away from Pereybere (most beautiful sunsets). The North is also 20min bike (motorbike) ride from Port Louis which boasts Saturday markets, Caudan Waterfront, island history and now a Theatre too.

What is your fav city or region of Mauritius?

You guessed it - the North. For all the reasons stated above and here are a few more. I made friends with some amazing people from South Africa that lived there too, which made me feel slightly more at home. Grand Baie is also where all the clubs are, so that was our Friday and Saturday nights week in and week-out for my first couple of months.

Classic Friday night: 🥳
Mon Choisy, Mystik Lifestyle - Mystik Mojito and a few beers

Grand Baie, Banana Beach Club - Big Phoenix beer, island beats (added as the backtrack to any song) and sweaty dance floor

Grand Baie, Bar en Vous - Amazing barmaids (after almost 2 years, when I told them I was leaving to go home, they gave me my last round for free)

Insomnia - It was always an issue to get in which made me laugh mostly because I was like "Where do you think this club is guys, London?" A random lady on my arm is all I needed though

Panini Grand Baie aka Ravis panini - Veg or double lamb panini

Bain Boeuf:
Most Sundays after a heavy session at my local gym, I would grab a few snacks, get on my bike and hit the coastal road to a beach just 10 mins ride away. One of my favourites and the beach I swam in soon after I first arrived - Bain Boeuf was so quaint. I lay down a towel, put out my snacks, put on some decent beats for background ambience and just sat and stared at the beauty of the soft blue water. Also in my view were bobbing boats and very tanned (some too tanned) beach patrons enjoying the picturesque backdrop of Coin de Mire.
Is Mauritius tourist friendly?

Very. I often tell my friends with kids that it's the perfect place to go on a fam vacay! Mauritians are all about family. One of the most beautiful sightings is on Sundays when hoards of local families go down to the beach to spend a fun day in the sun - eating, drinking, swimming and being merry.
Getting around Mauritius as a tourist is easy too, the roads are easy to navigate so hiring a car is a great idea. Taxis are cheap, and if you really must (but I don't advise it) they have busses too.

Side note: The busses (and their drivers, well mostly the drivers) suck! I swear they think they're race car drivers and it doesn't matter if you're inside the bus or walking on the streets - they're a threat! As somewhat of a local or newly turned expat living in Mauritius, I often opted for the "illegal taxis" (that was the name of them and their road permit status) which were super cheap, easier and definitely a more pleasurable experience than risking your life with Michael Schumacher's bus driving cousin.


How safe is Mauritius and are there areas people should avoid?

I thought Mauritius was super safe. I thinks that's because as South Africans we know (I hope everyone knows this) to always be vigilant and aware of our surroundings wherever we are, so I guess I never felt threatened anywhere. It's funny, because I often joke that when we (Saffers) walk into a room, before greeting anyone, we've already scouted the room and allocated the exits, just in case lol. Jokes aside though, if there were any areas in Mauritius I should not have visited, I am not aware of them. Obviously walking down pitch dark streets between half built houses, very far from where you should be in the middle of the night is not smart, but that's not smart anywhere. Just be cognisant of the fact that you're in a foreign country, make smart decisions and then for the rest of it - let your hair down love.


My fav things
Fav foods: 🥘
Royal road from umbrella man at 3pm weekdays
Gateaux piment (crushed chilli and chickpea)

Gateaux chillie (I called it this, not sure its real name)

Gateaux arouille (taro)

Gateaux le shoe (cabbage)

Gateaux banaan (well yes, banana)

Chana puri on top of a veg roti chaud
Rando stall outside the traffic department - 12 rupees (R5)
Blue stand on Grand Baie beach front
Halim (explanation below)

Channa Puri (deep fried vetkoek style dough with potato curry on the inside)


This meal cost a ridiculously silly R12 (less than a pound) and it was absolutely to die for. I never asked "my friend" who ran this stand for his name, but we did share a few memorable moments.

Here are a few:

He taught me my first few Creole words "Kot to pe alé" which means, where are you going? I would complete the dialogue by saying "Mopo al lakaz" which means, I'm going home. He told me that for many many years his family owned and have run that little blue kiosk. They were there every day, except Wednesdays (I found out the hard way, one Wednesday desperate for comfort food on a rainy day). They would start early morning, and their top seller, the Halim, took hours to prepare. Once ready to go they would then pack the cart and push it down the street to the beach front where they would occupy the hotspot from 1pm all the way through to 10pm'ish. By 8pm (when I'd pop by) the Halim had been simmering all day and was perfectly perfect. Wow it was yum!


After selling the final few bowls, they'd pack up, go home, get the dishes done, and finally get to bed around midnight. At 7am the next day it started again. It was a family affair, and whilst he was server, and the only English speaker in the little blue stand, his dad, who would always greet me with a massive smile, would be cooking up a storm of Chana Puri, Gateaux piment and all the other o-so-tasty fried goods that set their store apart from the others. Every visitor I took to visit "Halim guy" was more than delighted, and most asked for a second bowl. If he ever reads this - Thank you! Merci

What is Halim?

The best way to describe Halim I think would be to start with the feeling you get when you eat it. You ever wake up on a Sunday morning and realise that it's in fact not Monday and you're so happy to have one more day to live? You know what it's like to be outside on a cold winter's day, shivering as you run into the house, quickly get undressed and hop into the shower and when your goosebumpy skin touches the hot water, you let off a massive sigh of relief? You know that feeling when your crush finally starts to notice you? Now, imagine all of that, perfectly mixed into a thick warm gooey bowl of lentils, cooked oats, stock, veg with the meatiest flavoured (lamb if you like) soup, one chana puri inside the bowl and two more in a clear packet in your hand (the top up). The only thing between you and that bowel of goodness (love) is a small white spoon and the splash of vinegar, chilli and the finely cut spring onion bits you tossed on top to finish it off. Heaven —
Halim as found on the internet here.



Other amazing foodie finds: 🥥
Veg rotis from Intermart, La Croistte Mall

Veg or Double lamb panini with chilli and pesto from Ravis Panini aka. Panini Grand Baie

Veg or lamb Roti Chaud from Momo Superette in Point au Cannoniers

Litchi season, the best damn litchis I have ever had in November and December, straight pff the tree, along the side of the road

Sandwich Shop aka. Chez Do, crab and marlin baguette, this was by far the tastiest sandwhich I have ever had, on any island

Fresh coconut water - Ill au Coco brand or even fresher from the tree

Pistache Frombois from La Fonil Boulangerie, Point au Cannoniers

Pineapples with chilli spice and tamarin sauce at the fruit stand in Mon Choisy



Fav restos: 🌯
Sultan Kuridish Restaurant in Mon Choisy Mall- Chicken platter for 2;

Blue Lagoon Grand Baie - Spinach and cheese crepe, pizza, the infamous lamb burger (I didn't have this, but it was a fan fav among colleagues)

Grand Leh Mer (Joyces place and Grand Baie Business Park) Paneer rice, veg bread, bread fruit starter, ananas/banana crumble, Elliots juices;

Tsikoloua aka. Little Alley - Bouelette (variety) and poulet eouff min frite

Nitzana in Pereybere - amazingly cheap Indian resto

Happy Rajah at Super U in Grand Baie - Dal Makhini and garlic naan

Restaurant Coolen Chez Ram - Banana flambe and Goa Shrimp curry

Aka Puspa in Grand Baie - veg Thali on Fridays at 12pm

Souvenir in Trou-aux-Biches - veg curry with chips and rice (weekly with Chris)

Luigis in Grand Baie - best Italian food on the island

A Sunday tradition:

Very early on Sunday mornings all around Mauritius, locals flock to bread makers to buy gorgeously long and crispy fresh baguettes (or round bread aka rolls). The second and most important ingredient is found at their favourite fryer of Gateaux piment. The snack is enjoyed by cutting open the bread and placing a few of the small round fried crushed chickpea and chilli fritters inside. It's a treat for the whole family! Once I found out it was a thing, I needed to get in on the action. Rookie mistake - I took to the streets to find Gateaux piment at 11am, which is at least 5 hours too late to go out searching for this hotlist item. When my sister came to visit, after a few missed attempts we eventually got both ingredients to make this heavenly snack - on time and fresh, we even tossed in a jar of La Bonne apricot jam to add our little spin on it.


My fav things to do: 🚣‍♂️
Bike rides around the island, mainly towards the east

Catamaran to Ille Aux Cerfs

Morning walks to Mon Choisy

Energy generating swims at Mon Choisy

Snorkelling at Point Aux Piment
My fav locals: 💁🏾‍♂️
Chris from SA, my colleague and a great friend

Nadeem Coiffure aka. the best barber in town

Halim guy

Sen, my dear friend from gym

Jono "my cape town boytjie"

LP aka. Poulet and Clara (his super artistic French las)

Yoven, Chez Ram restaurant Coolen's finest

Avinen, the only taxi company you will ever need and a good friend of mine

Malati from Blue Lagoon in Grand Baie

Kamakshi - my best girl friend on the island

Shivani my masseuse from the place in Super U, Grand Baie

All my colleagues ("The assasin" aka Shane, Niraj, Stelly, Ludmilla, Sean, Tai, Audrey, Ronald aka Ron Burgundy but actually Ronesh, Thomas, Valerie)
Fav animals: 🐶
Kathithe aka. Kathy

My Indian doggy friend at the business park

The dog with 1 eye and peculiar movements

The short stocky cream and black coloured dog with arthritic paws
lol at my crazy year long episode with geckos - I basically freaked out about them my entire stay, but to be honest right now, 4 months later - I miss them. (Ok no, I really dont!)



Why I left the beautiful island?
Once I got through the initial loneliness I started to like being on the island. I'd take long motorbike rides chasing my colleague and friend Tai all the way from North to East and back again. I played five-a-side football with a friend from the gym Sendile aka Sen and hit the beach more often than ever in my life before. Everything was great!
In May, I went back to South Africa to visit my family; it was a short 8-day stay. It was short because when I was home in feb and booking my next trip back (May), I found a one-way ticket from Cape Town to Mauritius (via London) to be cheaper than me flying straight back "home" to MAU. That was confusing! Anyway, in May, I was going off to Europe for my first time.

I spent one day in McDuff Scotland, three days in Amsterdam, seven days in London - I.was.blown.away.


After that nothing about Mauritius excited me as much anymore. Well that's not all the way true. My sister and 3 of her friends came to visit me for 11 days in July. That was probably the most fun I had in Mauritius.


A few memorable moments:
Home cooking style lunch experience at Butte a l'Herbe Beach;

Volley ball at sunset on Le Morne beach;

Birthday sparkles on Trou-aux-Biches;

Early morning yoga and private HIIT sessions on the beach;
Other than that, I had my eyes set on heading back to Europe - my blesuire trip. This time I saw more, did more and met many more people.

Places I visited:
Munich, Germany

Amsterdam, Netherlands

Lisbon, Portugal

Reykjavik, Iceland

London, UK


While out there for my second time I realised that my Mauritius stint was coming to an end. In the first week I was in Amsterdam I met more new and amazing folk than I had met in the 3 months prior to my departure from the island. In conversation I said things like this to people I met when they asked me how it was to live on the island "It's great, really beautiful, but I like to meet people and do cool things and most of the new people I met were tourists visiting the island, so here today, gone tomorrow". That was true though, and that's how I felt, so I held on to that while I traipsed around Europe for the 3 months.

On the 1st of November 2018, when I got back from my amazing (for lack of any better adjectives to use) trip, I was happy to be back in one place, but even more excited now about going back home to see my family and friends in SA. I moved into a new place, by default adopting a beautiful little kitten named Kathithe or Kathy or anything with a "Ka". I enjoyed chilling alongside my crystal clear half Olympic sized pool and befriend an initially cranky German woman named Barbara. But still, the island had lost me, and me it.

My parents came to visit me in November and even though that was probably one of the nicest times away from home we shared, it felt like we were enjoying the island for the last time together, as if we were all flying out 7 days later, never to return.

The literature that changed my mind:
The subtle art of not giving a F**K
Lessons from the Monk who sold his Ferrari
"Travel is not a cure for the mind"
I finally decided that it was time to go home.
Would I go back?
Definitely! Probably not to live, but definitely to visit my friends.

To all my friends, thank you for the all the fun moments shared and the amazing experiences we had. I will always remember you for your door-wide-open policies, heartwarming interactions and amazing food! Much love. Merci beaucoup mes amies
❤️❤️❤️